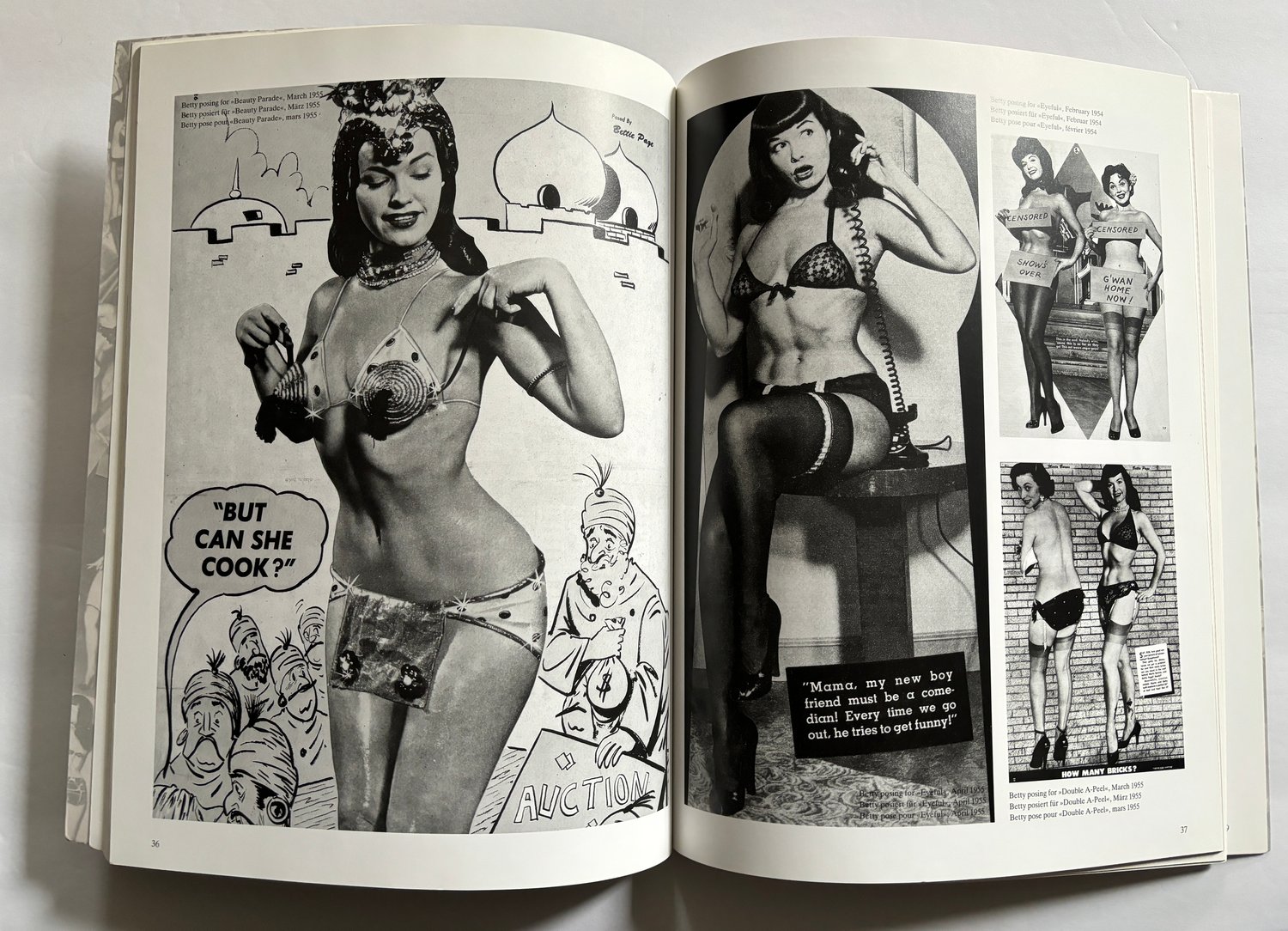 "Betty Page: Queen of Pin-Up" - A Softcover Book Celebrating the Iconic Bettie Page in Stunning Photographs
"Betty Page: Queen of Pin-Up" - A Softcover Book Celebrating the Iconic Bettie Page in Stunning Photographs
Embark on a mesmerizing journey through the life and allure of the legendary Bettie Page with this exquisite softcover book. Filled with captivating photographs, most notably by Irving Klaw, alongside contributions from Bunny Yeager, camera club snapshots, and private photo shoots, this collection is a homage to the enchanting Bettie Page.
Key highlights of this extraordinary volume include:
📷 Iconic Imagery: Immerse yourself in the timeless charm of Bettie Page through a remarkable array of photographs, showcasing her in various states of attire – from fetish clothing to bondage outfits, and from tastefully nude to alluring lingerie. Irving Klaw's lens captures her essence in ways that have made Bettie an enduring symbol of pin-up allure.
🔍 Diverse Contributors: While Irving Klaw's work forms the cornerstone, Bunny Yeager's portfolio adds an extra layer of fascination to this collection. This book is not just a singular perspective but a multifaceted celebration of Bettie's magnetic presence.
📖 Insightful Introduction: Gain a deeper understanding of the significance of Bettie Page in the world of pin-up and fetish photography through an insightful introduction by Harald Hellmann.
📜 Multilingual Texts: The book includes texts by both Harald Hellmann and Burkhard Riemschneider, making it accessible to a wider audience with its content available in English, German, and French.
🌈 Rich Visuals: Featuring a captivating blend of color and black & white photos throughout, this book captures the essence of Bettie Page in all her radiant glory.
📚 Detailed Page Chronology: Dive into the life and career of Bettie Page through a detailed chronology, providing valuable insights into her iconic journey.
"Betty Page: Queen of Pin-Up" is more than a book; it's a testament to Bettie Page's enduring appeal and the photographers who immortalized her image. Measuring 9 x 11.75 inches and spanning 80 pages, this volume is a must-have for enthusiasts of pin-up art, photography, and the timeless allure of Bettie Page. Whether you're an admirer of classic glamour or a connoisseur of iconic imagery, this book is a captivating addition to your collection.
Out of print very collectible.  
Like New
Kept in excellent condition.
Please read description and see images.
All sales Final.